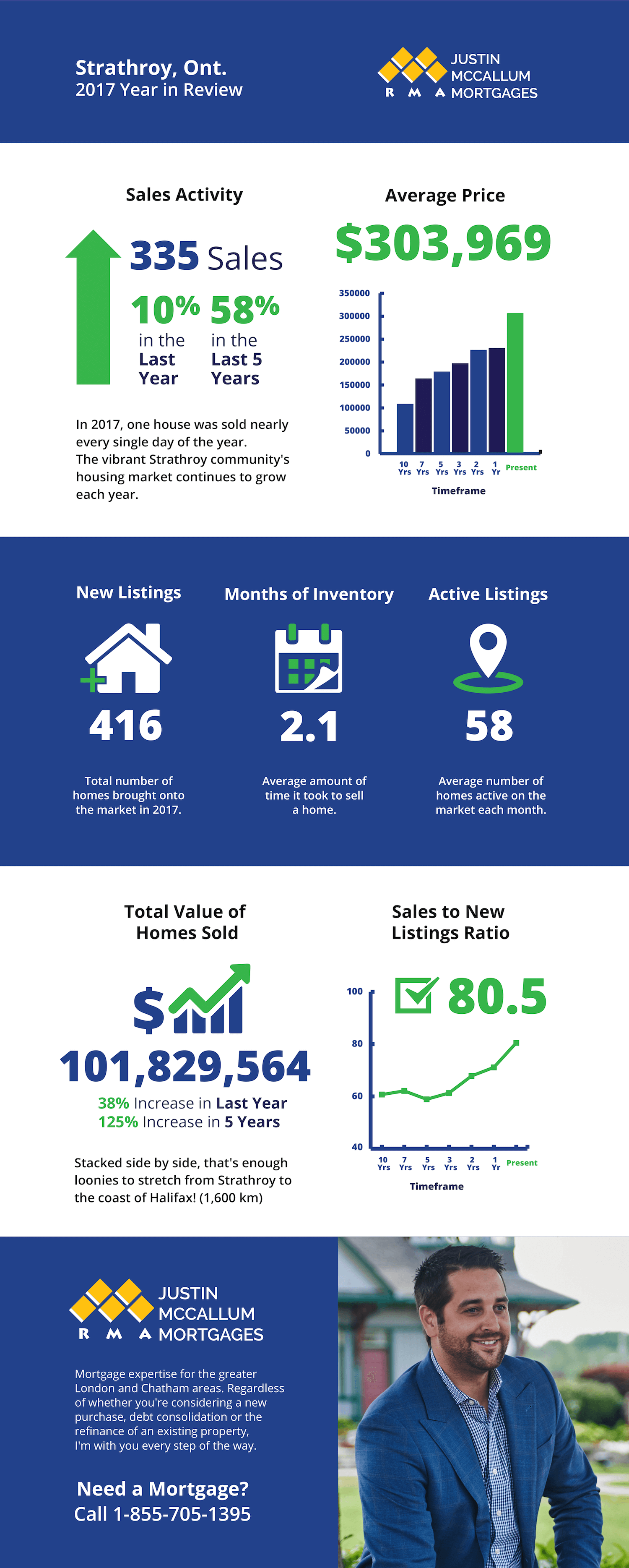 Location
Located west of London, Ont., Strathroy-Caradoc is the largest municipality in Middlesex County. The community is located close to Highway 402, and is equal distances between London and the Michigan border to the U.S. through Sarnia.
Housing Market
In 2017, 335 homes were sold in Strathroy at an average price of $303,969. This is a ten per cent increase from 2016 and a 58% increase in the last five years. In total, there were 416 new residential listings to the Strathroy-Caradoc area and it took an average of two months for each house to sell. At any given time, there was an average of 58 homes for sale in the area each month. The total value of homes sold in the region was near 102 million dollars.
History
Home to approximately 20,000 residents, the community was incorporated in 1860 and was amalgamated with the Township of Caradoc in 2001. Strathroy-Caradoc continues to grow and prosper with its urban downtown core and rural agricultural surroundings.
Local Attractions
Local attractions of Strathroy include outdoor conservation and recreation with vast areas for hiking, canoeing and cycling. In town, there are a number of restaurants, retail shops and accommodations in the downtown core.
Culture
The Strathroy has a vibrant cultural community which includes Museum Strathroy-Caradoc, The Strathroy & District Historical Society and the Ska-Nah-Doht Village and Museum; all of which commemorate and celebrate the past of the town. In addition, the municipality has a number of festivals and community groups that support local interests including the Strathroy-Caradoc Horticultural Society, The Art Group, the Strathroy Lions Club and Rotary Club. The community has two weekly newspapers: The Age Dispatch and the Middlesex Banner.
Sports & Education
In regards to sports and education, Strathroy has two secondary schools: Strathroy District Collegiate Institute and Holy Cross Catholic Secondary School. The community is home to the Strathroy Rockets junior hockey team and the Strathroy Royals baseball team.
If you're interested in living in the Strathroy-Caradoc area and are looking for local mortgage rates, be sure to reach out to me directly to discuss your options.