Getting a Construction Mortgage
Building a new home can be an exciting new chapter for you and your family.
However, getting approval for a new construction mortgage can be another story filled with challenges. Typically large banks view construction loans as "high-risk" compared to traditional mortgages, as construction is generally subject to unforeseen delays including licensing and weather.
What does a construction loan cover?
A new construction mortgage will include the cost of your land if you haven't already paid for it up front. It can also cover the costs of materials and resources, as well as the costs of hiring contractors. In many cases your construction mortgage can also go towards rental expenses incurred while you wait for your dream home to be finished.
If you're interested in a mortgage to build a house, there are two options: A Completion Construction Mortgage or a Progress Draw Construction Mortgage.
Completion Construction Mortgage
A complete Construction Mortgage is a type of new-build mortgage where financing is arranged only once your new home is completed, with the same approval process as financing an existing home. Typically this means you are purchasing a house that has been built or is being built by a home builder, with completion of the sale finalized only once the house is move-in ready.
Completion mortgages are fast and flexible! Generally lenders require completion of your building project within 120 day schedule. A down payment is required to start, however you can pay this in instalments because you are not mortgaging an existing building. The terms of your completion mortgage are also not official until 30 days before you take possession of the home. This means that before the 30 day period begins, you have the advantage of making changes to your mortgage such as increased financing, to accommodate for any future upgrades to your dream home.
Progress Construction Draw Mortgage
When finding the best mortgage for building a home, it is important to be aware of all your options. A popular alternative to Completion Construction Mortgages is the Progress Draw Mortgage which allows the builder to receive funding in instalments throughout the construction process as opposed to paying the builder once the project is completed. This can be beneficial for a self-build project, as your cash-flow coincides with your ability to keep to your building schedule. A progress draw construction mortgage is divided into four phases:
Phase 1: The Foundation Draw
This covers your initial construction fees and is paid on the condition that the land has little to no mortgage on it.
Phase 2: The Lock-Up Draw
This next instalment comes when your project is 30-50% complete. At this stage the foundation should be laid, framing, windows and doors are in place and your site can literally be locked up at the end of the day.
Phase 3: The Drywall Draw
Your third instalment is received when the building project is 65-70% complete. At this stage, your heating system should be in place and the walls ready for a coat of paint.
Phase 4: The Completion Draw
The final instalment is given when you house is either finished or very near completion (90- 100%). All utilities (plumbing, electricity, heating) must be functioning properly, and all permits must be granted.
It is important to note that with a Progress Draw Construction mortgage inspections are required throughout the process to ensure you meet the standards to continue on to the next phase. If you fail to adhere to your schedule or the quality of the work is poor, your next instalment could be paused or withdrawn.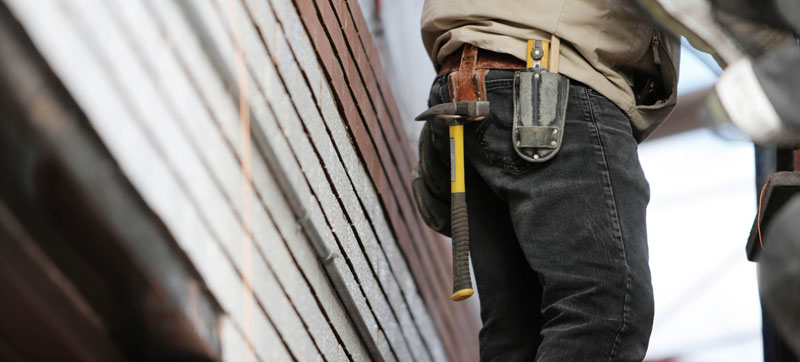 Why It Can Be Difficult to Get Funding From Traditional Banks.
As with traditional mortgages, it can be difficult to secure a Self Build Mortgage if you are either self-employed or have bad credit. This can be a particular challenge if you are a self-employed builder and intend to act as your own contractor. Major banks typically provide an approved list of contractors, which may be limiting if you are considering building a home yourself or are planning on building in a remote area. If you choose to act as your own contractor you may be met with the challenge of securing a loan if you expect your building project to exceed the 120 day construction time frame. A large bank will also require you to submit a detailed timetable and budget, blueprints, builder's resumes, construction plans and contracts before they grant you a loan. This may be difficult if you had hoped to secure your financing before contracting out all the labour required. In addition, traditional banks may require a down payment as high as 35% to cover the cost of what they may deem a "high-risk" loan and ensure you don't walk away from the project.
Why Private Financing is a good option.
We are committed to exploring all of your financing options and negotiating on your behalf to get you the best rate possible. We offer flexible options to find you the best mortgage for building a home and ensure you get approved and get your funding quickly.
If you have ever considered building your dream home, don't let the challenge of obtaining a construction mortgage be the thing that stands in your way. Give me a call or send me a message to discuss you options, learn more about the building construction mortgage process or answer any question you may have.